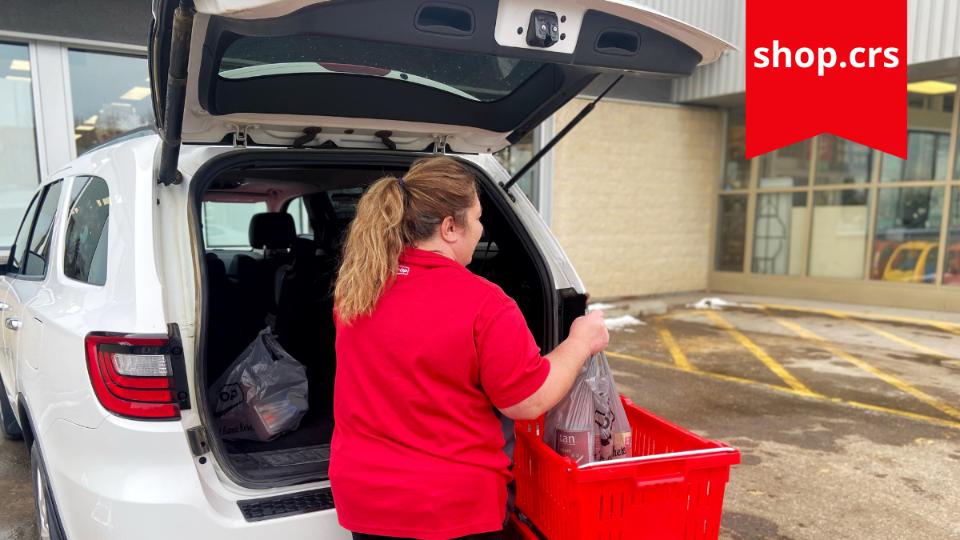 Shop online with Shop.crs!
February 15, 2022
Our Estevan customers rated us ⭐️ 8/10 for how likely they are to recommend our online grocery shopping to a friend or collegue 👏

Here's what one customer had to say:

"𝘔𝘪𝘤𝘩𝘦𝘭𝘭𝘦 𝘶𝘴𝘶𝘢𝘭𝘭𝘺 𝘩𝘢𝘯𝘥𝘭𝘦𝘴 𝘰𝘶𝘳 𝘰𝘳𝘥𝘦𝘳𝘴 𝘦𝘷𝘦𝘳𝘺 𝘸𝘦𝘦𝘬, 𝘰𝘶𝘳 𝘴che𝘥𝘶𝘭𝘦𝘴 𝘫𝘶𝘴𝘵 𝘴𝘦𝘦𝘮 𝘵𝘰 𝘭𝘪𝘯𝘦 𝘶𝘱. 𝘚𝘩𝘦 𝘤𝘢𝘭𝘭𝘴 𝘵𝘰 𝘢𝘴𝘬 𝘢𝘣𝘰𝘶𝘵 𝘴𝘶𝘣𝘴𝘵𝘪𝘵𝘶𝘵𝘪𝘰𝘯𝘴 𝘢𝘯𝘥 𝘩𝘢𝘴 𝘨𝘳𝘦𝘢𝘵 𝘳𝘦𝘤𝘰𝘮𝘮𝘦𝘯𝘥𝘢𝘵𝘪𝘰𝘯𝘴. 𝘚𝘩𝘦'𝘴 𝘢𝘭𝘸𝘢𝘺𝘴 𝘩𝘦𝘭𝘱𝘪𝘯𝘨 𝘶𝘴 𝘴𝘢𝘷𝘦 𝘮𝘰𝘯𝘦𝘺 𝘣𝘺 𝘴𝘶𝘨𝘨𝘦𝘴𝘵𝘪𝘯𝘨 𝘴𝘢𝘭𝘦 𝘪𝘵𝘦𝘮𝘴! 𝘞𝘩𝘦𝘯 𝘐 𝘴𝘩𝘰w𝘶𝘱 𝘵𝘰 𝘵𝘩𝘦 𝘴𝘵𝘰𝘳𝘦 𝘸𝘦 𝘥𝘰𝘯'𝘵 𝘩𝘢𝘷𝘦 𝘵𝘰 𝘸𝘢𝘪𝘵 𝘭𝘰𝘯𝘨 𝘢𝘯𝘥 𝘔𝘪𝘤𝘩𝘦𝘭𝘭𝘦 𝘪𝘴 𝘢𝘭𝘸𝘢𝘺𝘴 𝘧𝘳𝘪𝘦𝘯𝘥𝘭𝘺 𝘸𝘪𝘵𝘩 𝘮𝘦 𝘢𝘯𝘥 𝘵𝘩𝘦 𝘬𝘪𝘥𝘴! 𝘛𝘩𝘦𝘺 𝘭𝘰𝘢𝘥 𝘮𝘺 𝘨𝘳𝘰𝘤𝘦𝘳𝘪𝘦𝘴 𝘪𝘯𝘵𝘰 𝘵𝘩𝘦 𝘣𝘢𝘤𝘬 𝘴𝘰 𝘸𝘦 𝘥𝘰𝘯'𝘵 𝘦𝘷𝘦𝘯 𝘩𝘢𝘷𝘦 𝘵𝘰 𝘨𝘦𝘵 𝘰𝘶𝘵 𝘰𝘧 𝘵𝘩𝘦 𝘤𝘢𝘳. 𝘓𝘪𝘧𝘦 𝘴𝘢𝘷𝘦𝘳 𝘴𝘦𝘳𝘷𝘪𝘤𝘦 𝘧𝘰𝘳 𝘵𝘩𝘪𝘴 𝘮𝘰𝘮 𝘰𝘧 𝘵𝘩𝘳𝘦𝘦."

Grocery shopping has never been easier! Here's how it works:
🛒 Go to www.shop.crs, create an account and start filling your cart
🕐 Select a time to pick up, enter payment details and submit your order
🚗 Drive to the store, park in designated pick up spot and call the number on the sign
🛍 One of our friendly team members will bring your order to your car
That's it!

🍺 Want to add liquor to your order? Add your order request in our notes section of the order form and our team will call you to process this as a separate transaction.

Seriously - you'll wonder why you never shopped like this sooner!

Discover more: