Giving Big in the Southeast
Actions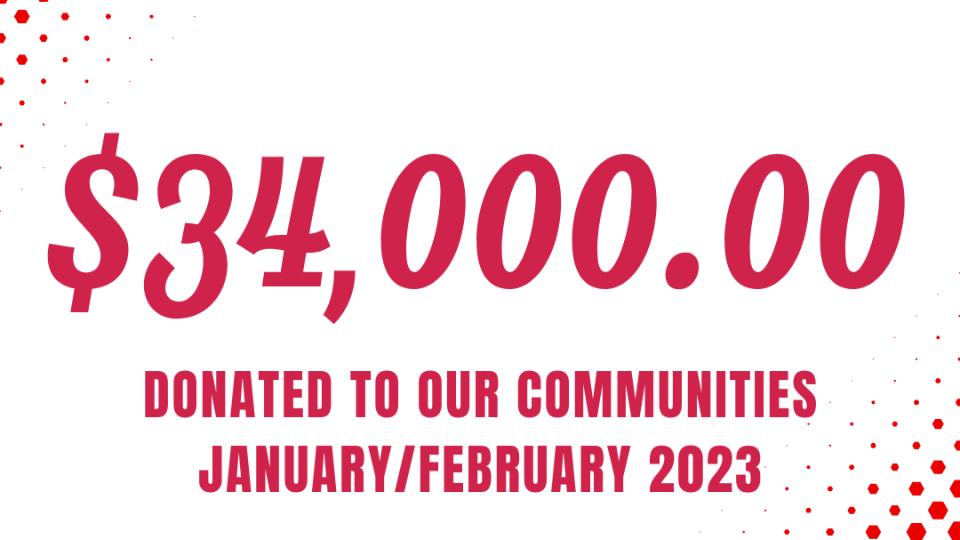 Giving Big in the Southeast
March 3, 2023
(article from Sasktoday.ca, posted by the Estevan Mercury)
The Southern Plains Co-op has been busy in the first two months of the year, showing support for a variety of causes in the southeast region.
The Co-op has presented 20 cheques worth a total of $34,000. The largest contribution was to the women's health outpatient centre at St. Joseph's Hospital. The co-op has donated $15,000, to be paid out over the next 10 years, and will receive the naming rights for the area.
Brooke Spagrud, who is the marketing and community relations manager for the co-op, said one of the objectives is to give back to communities they serve, and supporting healthcare is a great way to do it.
"We are excited to continue to build this initiative with the St. Joseph's Hospital Foundation," said Spagrud.
She noted that nearly 75 per cent of their employees are females, and they want to support women's health.
The other organizations received $500 to $2,000, benefiting child care, animals, first responders, the arts, health, sports, recreation and more.
"This list of organizations was put together by our staff and management in the beginning of January," said Spagrud. "We asked them to nominate or come up with a list of groups or organizations that they felt were important, that they would like to support. From that list, then we were able to allocate funds and surprise them with donations."
The organizations didn't know until they received a phone call that they would receive a donation. Spagrud asked each entity how the co-op could help.
"All of them have a list of things, on an ongoing basis, that they're looking to purchase, or they have needs to fulfill. Once you get talking to them, it varies," she said
For example, the Manor Fire Department is adding an expansion for its fire hall, so the funds will help with that project, Spagrud said. The Carlyle Fire Department needs to purchase one of its trucks, so firefighters are fundraising for a rapid response truck. The Emergency Support Fund in Oxbow used the money for gift cards for people who need help purchasing groceries.
Bow Valley Villa in Oxbow is looking to replace beds for its residents. The Estevan Humane Society is making upgrades to its cat rooms, adding climbing structures so the animals are more comfortable and active in their space. Saskatchewan Southeast Search and Rescue will use the money to help them be ready when called to find a missing person. The Souris Valley Theatre needs to replace their sprinkler system.
And then there was a group of quilters out of Carlyle.
"The quilt club was nominated to receive some funds, and when I called them, I asked them to explain a little bit about what they do, because I was unaware," said Spagrud. "It turns out that these ladies create quilts and gift them to cancer patients and people who were recently diagnosed with cancer in Carlyle and the surrounding area."
Shortly after the Humboldt Broncos bus tragedy in 2018, the guild sent some quilts to the Humboldt area.
Funds from the co-op will allow the quilt club to purchase batting and other supplies so they can continue to give a homemade quilt to people.
It was also important to donate to projects throughout the southeast. The co-op has operations in Carlyle, Oxbow, Alameda and Gainsborough in addition to Estevan.
Spagrud said a percentage of the co-op's sales goes back into the communities they serve, so they're always supporting non-profits throughout the year.
"This is the first time we've approached organizations and said 'Hey, we have money we want to give you.' Typically, donations and sponsorship requests come to us. These organizations come to us and they ask if we can help them. What made this one unique was that this one was a list of groups nominated by co-op employees of different organizations they wanted to support."
Co-op employees are members, too, so basically the co-op was making donations to groups and organizations important to employees.
Last year the co-op donated just over $162,000 to community groups in a variety of ways, Spagrud said.
Discover more: